Ultimate Guide To The Best Camping Chairs Australia 2022
For some, camping can be about adventure and exploration, while for others it's about relaxing and enjoying the outdoors. No matter what combination of those inspires your next camping trip, it's important to prepare and have the right camping gear. Something to not overlook, is what you're going to sit on once you get there. It will vary depending on the needs of each trip, as well as your own. A great camping chair can ease your body, store well, allow you to snuggle up with a loved one and provide a home for your open drink. This article provides you with the best camping chairs in Australia.
As you make your way through this article, it will highlight important features to look for and provide reviews on numerous chairs in Australia. Most importantly, I hope it will help you decide what you value in a camping chair, so you can make the right purchase for your life's journeys.
Types Of Camping Chairs and Key Features
When I think of camping chairs, the first thing that comes to my mind is the old mismatched set I had. One was passed down from my Uncle, and the second one, well, for the life of me, I couldn't tell you where I got it from. What I can remember is trying my friends new, quality camping chairs and realising I needed an upgrade. As I learned, like everything these days, camping chair technology and design has improved leaps and bounds since my second generation ones.
Once in it, the camping furniture world can be an exciting, possibly overwhelming place. They have travel chairs, folding chairs, camping stools, lightweight options, chairs that recline and even rocking camping chairs and there are even a great range of beach chairs that differ to these. It can be hard to know where to start. Luckily for you, this article breaks down what to look for in a chair and has a list of the best camping chairs in Australia.
Camping chairs can be used in a variety of settings, such as; weekend camping, backpacking, caravan travels, sporting events, holiday homes, BBQs and picnics. With each of these scenarios it's important to look at a few key features of a chair before determining if it's the one for you.
Quality
Think about what you are going to use the chair for. For those who camp nearly every weekend or are pulling out a chair rain or shine for a football game, you want a camping chair of durable material that will last through all wear and weather. If I'm buying a chair to have around the campfire at my holiday home, it won't experience as much wear, so something heavy duty would be overboard for my needs.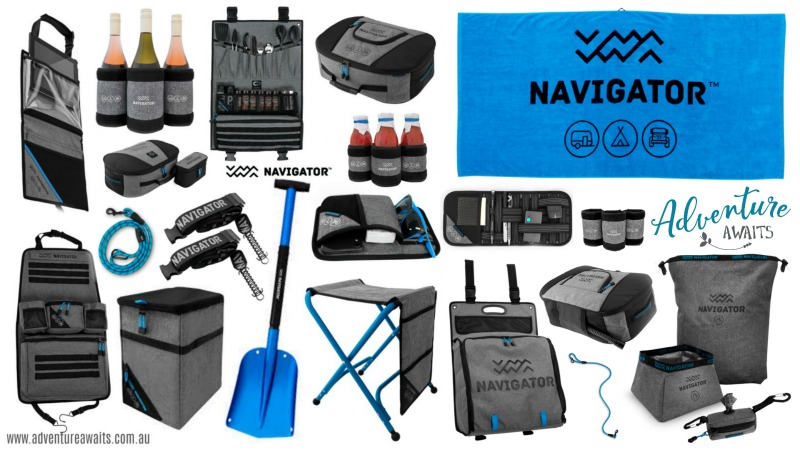 Weight
This one is important. If you're going on backpacking trips or long hauls that require you to carry everything with you, you need to be cautious about the weight of your chair. There are specialty chairs designed to be ultra lightweight for just these purposes. If the beach is a bit of a walk away, it's nice to know you can comfortably handle the weight of the chair. On the other hand, if you're going to be parked up along the campsite, or just popping the chair out from the holiday home or caravan, weight isn't a big consideration.
Ergonomics
When it comes to finding the most comfortable camping chair for you, remember to look at the specifications. Low camping chairs are often lightweight, but can cause trouble for those with knee issues. This is why chair height is important. You want to make sure you can easily and safely get in and out of the chair. If you suffer from back pain, searching for a chair with lumbar support and a strong seat is crucial. High back camping chairs allow you to relax your head, while reclining chairs can provide a more comfortable lying down position. Take a peak if the headrest is adjustable and if you want soft armrests or ones made of solid material. Finally, make sure the weight limit suits your needs.
If you're going to be spending a good amount of your time in the chair, it is essential you have one that you are comfortable in. For example, if I'm investing in a chair, I want one that supports my back, reclines for when I'm on the beach and allows me to move the headrest to my height.
Accessories
Now this is the fun part. Many camping chairs come with a space for your drink. There are soft, hard and even insulated cup holders. If you are going to be eating from your chair, consider purchasing one with a stowable side table to make meal time more enjoyable. For some more niche options, there are chairs with built in coolers, side storage pockets, wine glass holders and rocking chair conversion options.
Storage
It's great to think about where you are going to store your chair and how much room you have. If you're using the chair for backpacking, you want the smallest camping chair you can find. For caravan travel or holiday homes, simple folding chairs would be advantageous. Collapsible chairs are convenient for their versatility. They are easy to fit the car for travel and can be in the garage when not in use. Camping chair ads list their specifications, so just double check the chair will "fit" your life.
Best Camping Chairs Australia
Comparison Table
| | | |
| --- | --- | --- |
| Product Name | Key Features | Cost |
| Dometic Serene Firenze Relaxer Reclining Camping Lounge Chair | Reclines with footrest, Fully adjustable headrest, bungee seat base | Check price! |
| YETI Trailhead Camping Chair | Cup holder, lock in support, holds up to 227kg | Check price! |
| OZtrail Chair RV Travel Mate | Side storage, converts to table, easy handling | Check price! |
| Oztent Gecko Chair with Side Table | Adjustable lumbar support, stowable side table, 5 year warranty | Check price! |
| OZtrail DuraLite Directors Chair | Locks in place, compact for carrying, durable fabric | Check price! |
| Coleman Chair Flat Fold 5 Position Padded | Reclines with headrest, cup holder, very comfortable, fully padded luxury | Check price! |
| Cliq Camping Chair – Bottle Sized Compact Outdoor Chair | Lightweight, ultra small, holds up to 300lbs, quick set up, mesh pocket | Check price! |
| Helinox Chair Zero Ultralight Compact Camping Chair | Super lightweight, 540g when packed, 5 year warranty, packable | Check price! |
| Outdoor Connection King Rocker Chair | Cup holder and storage pocket, converts to rocking chair, camping luxury | Check price! |
| NaturehikePortable Camping Chair | Easy assembly, durable, lightweight, storage bag included | Check price! |
| Relaxdays Double Camping Chair | Extra wide seats, great storage, cooler in middle, carry two chairs in one bag | Check price! |
| Kathmandu Retreat Two Person Camping Chair | Adjustable arms, wine glass holders, insulated cup holders, padded throughout | Check price! |
| Nice C Double Camping Chair | Anti slip and anti sink base, side pockets, sturdy steel construction | Check price! |
Best Camping Chairs Australia Reviews
This chair allows you to kick your feet up as you recline back with ease, guided by the solid armrests. No need to worry about your head not reaching the pillow; the headrest velcros at the back so you can adjust it to your height. The seat base is supported by bungee cords which give comfort exactly where you need it.
Click here to check the price now!
This chair is made to last. If you need a chair that can handle adventures you throw at it, look no further. The supports are solid and the fabric is durable, holding up to 227kg of weight. The cup holder hooks onto the side of the leg, so you can still have a drink while resting your arms on the armrests. It has a two strap carrying bag, making travelling just that much more pleasant.
Click here to check the price now!
This folding chair, side table combo is the perfect tag along to your plans. It's an easy to fit chair that is perfect if someone needs an extra seat around the campfire, or a place to put their drink. The hanging side pockets mean there's always a place for your phone, books or snacks. So sit, drink, put your feet up, just remember to bring this chair on your next outing, with so many uses, you'll be glad you brought it.
Click here to check the price now!
A quality chair that ticks all the boxes. This Oztent chair has adjustable lumbar support and padding throughout for maximum comfort. The stowable side table even has a cup holder, perfect for meal time or working on your s'mores masterpiece. This chair folds away, packing flat. To top it all off, you'll be protected under a 5 year warranty.
Click here to check the price now!
This chair is a great option for a quick, pop up seat. Made with magnesium alloy, it provides a lighter option for seating at your next sporting event or BBQ. The locking cross frame, and solid armrests contribute to the stability and durability of the chair. The convenient and subtle carry bag make it a good choice for a variety of events.
Click here to check the price now!
This Coleman camping chair is one of the more stylish options out there. It's stripe design is pleasing, as well as the padded seat and back. There is a headrest for reclining in one of the five possible positions. The cup holder is attached to the leg, so you can recline without spilling your drink. Although on the heavier side, the comfort it serves is well worth it.
Click here to check the price now!
If you need a chair that is secure and saves space, the Cliq camping chair is for you. Weighing 2.1kg, this chair is lightweight, and as they market, it folds up to the size of a water bottle. It is low to the ground and stable on the four leg base. Unfolding in five seconds and supporting up to 136kg, this little chair is strong. Look for the additional carry bag options.
Click here to check the price now!
Now here is the ultimate lightweight chair. Weighing in at just over 500g, you'll always have room. This chair is favoured for more long adventures, such as backpacking and cycling when every gram counts. It can support up to 120kg and has additional accessories available. To complete it, there is a 5 year warranty.
Click here to check the price now!
No one knows they need a camping rocking chair, until they have one. It is an added luxury that you'll appreciate when watching the sunset from the dock. The high back seat lets you rest your head as you rock. The rocking legs can be converted to regular legs with clips on the side. The chair has a cup holder and a covered pocket.
Click here to check the price now!
Another lightweight option for a camping chair. The bucket seat design has mesh sides, allowing for air to travel through, keeping you cool and reducing sweat in hot conditions. It has easy assembly and durability to last. The storage bag is included.
Click here to check the price now!
It's hard not to have a good time in this chair. It has two chairs, connected by a cooler, with two cup holders, and storage pockets. So gather up some good company and put your drinks on ice. Keep your sun lotion, phone or books in the pockets for easy access. The chairs fold away into one bag, a simple way to carry two chairs.
Click here to check the price now!
This loveseat chair comes with padding throughout, adding to the comfort. The middle support stops you from sliding into the centre. Each armrest has an insulated cup holder and a retractable wine glass holder, so you can have the best of both worlds. The adjustable arms allow you to set them to your preferred height.
Click here to check the price now!
This chair is a great option to snuggle up with your favourite person. It is made from durable material and a sturdy steel base. The feet are wide, to reduce slipping and sinking. Each side has a pocket for your enjoyment. The chair retracts easily and can be carried in the travel bag included.
Click here to check the price now!
This post may contain affiliate links, which means we may receive a commission, at no extra cost to you, if you make a purchase through a link. Please see our full disclosure for further information.